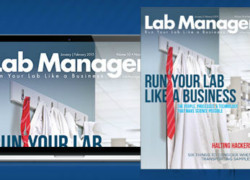 Alconox, Inc., Vice President, Malcolm McLaughlin, was recently interviewed for Lab Manager Magazine for the article, Validating The Results of Washing Lab Glassware (Oct.2016, p.63).
Mr. McLaughlin is the co-author of The Aqueous Cleaning Handbook, and answers many of the industry-specific application questions submitted by TechNotes readers at Ask Alconox. Lab Manager Magazine author, Mike May, PhD, reached out to Mr. McLaughlin for information about glassware cleaning validation in the pharmaceutical industry.
When asked about eliminating residue on lab glassware, Mr. McLaughlin said, "The detergent doesn't care what the surface is; it cares what the residue is. Nothing can clean everything. In our product line, most new products were developed because someone ran into something that an existing detergent couldn't clean. For example, heavy-metal radioactive isotopes need heavy chelators, but an alkaline clean and an acid rinse will cover the vast majority of what you run into, and most lab washers come with that capability."
To read the full article, Validating The Results of Washing Lab Glassware, Click Here.
To ask Malcolm McLaughlin and other technical experts at Alconox, Inc. a question about lab washing, validation or other application-specific tech question, Click Here and Ask Alconox.