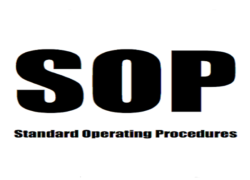 Q. What are important items to include in standard operating procedures for cleaning?
A.  A large part of successful cleaning relies on having a sound, reproducible procedure. In general, a good SOP should present a list of materials and people involved, the surface being cleaned should be identified, and the eight key variables for cleaning effectiveness should be defined:
1) precleaning handling
2) cleaning chemistry/concentration
3) time
4) temperature
5) type of agitation
6) rinsing conditions
7) drying conditions
8) post cleaning handling
Where cleaning solutions are re-used in baths or sumps, the control parameters and equipment used should be defined (such as conductivity or pH) the limits should be defined, the person responsible for monitoring the baths should be defined, the type of report or logbook entry should be defined, the trigger points and alert levels should be defined, actions taken in response to these levels and finally the conditions under which the bath is dumped should be defined.
To receive a free detergent sample please complete the request form at Get Sample.
To ask our experts another cleaning question please visit Ask Alconox.
Alconox cleaners are available globally with consistent formulations and are GMP compliant.  Downloadable certificates of analysis, technical bulletins, SDS, trace analysis, and inhibitory residue testing are available from the Alconox website at www.alconox.com