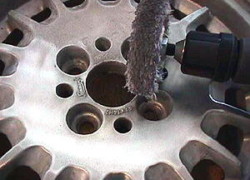 Q. We are sanding the forged aluminium wheels by 600 grit sanding papers before polishing to remove the machining lines. It takes too much time and manpower. Now we are looking eliminate sanding completely. If you have any solutions please write us back.
A. Etched lines in the surface of the aluminum are caused by mechanical action, and thus are a property of the surface. Cleaning will not remove machining lines as cleaning is a non-destructive method of contamination removal. While lines may be considered a "contaminant," these defects must be removed by another mechanical means, such as sand blasting. 
Do you have a question for our technical experts? Ask Alconox and we'll let you know how we can help.