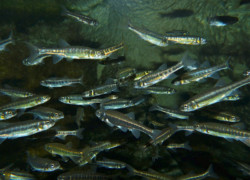 Q. What is the aquatic toxicity of the surfactant in Liquinox?
A. In order to evaluate proper disposal in compliance with some local regulations, you sometimes need to know the aquatic toxicity of detergents that you might wish to dispose of into a locally regulated sewerage treatment plant.
Alconox® Powdered Precision Cleaner, Liquinox® Critical Cleaning Liquid Detergent, Tergazyme® Enzyme-Active Powdered Detergent, Citranox® Liquid Acid Cleaner and Detergent, and Alcotabs® Tablet Pipet Detergent all contain roughly 5-20% sodium dodecylbenzene sulfonate surfactant. The aquatic toxicity is derived from the surfactant.  This surfactant is sodium dodecylbenzene sulfonate.
By using this information and knowing how much detergent you plan to discharge, you can determine the concentration of surfactant and what the contribution to aquatic toxicity from the surfactant will be and if it meets the local discharge limits.
Typically with normal amounts of detergent discharge, you will find that it is acceptable to discharge the detergent in accordance with your local regulations.
We are pleased to discuss this further with your particular municipality needs.
To request these, or any Alconox, Inc. detergents for free, please complete the questionnaire at Get Sample.  For more information about any one of our Alconox, Inc. detergents, consult the technical bulletin for each product. Or click here to access each of our detergent's  Safety Data Sheets.
Do you have a critical cleaning question for the experts at Alconox, Inc.?  Search TechNotes to see if it's been answered before or Ask Alconox.
Contact us any time: cleaning@alconox.com