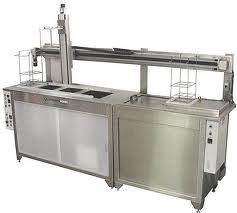 Q. Which Alconox brand cleaners can be used in an ultrasonic machine?
A. All Alconox, Inc. brands can be used in ultrasonic machines. Alconox, Inc. powder brands or liquid concentrate brands can be used in ultrasonic machines and the choice can be based on convenience. Alconox, Inc. generally recommends using high emulsifying detergents, typically these are the higher foaming detergents.
For example, healthcare and medical device reporecessors use Alconox® Powdered Precision Cleaner or Tergazyme® Enzyme-Active Powdered Detergent in ultrasonic machines for cleaning equipment with blood residues.
Medical Device Manufacturing companies use Liquinox® Critical Cleaning Liquid Detergent to clean small stainless steel parts and manufactuer devices in ultrasonic machines.
Pharmaceutical and Cosmetic manufacturers, may use either Alconox or Liquinox detergent, or utilize Detonox® Ultimate Precision Cleaner for their toughest residues (tablet coatings, zinc oxide, titanium oxide).
Alconox Inc. low-foam cleaners, such as Solujet® Low-Foaming Phosphate-Free Liquid,  Detojet® Low Foaming Liquid Detergent and Alcojet® Low Foaming Powdered Detergent can be used in ultrasonic machines.   They are formulated to have higher free alkalinity.
To request these or any Alconox Inc. detergents for free, please complete the questionnaire at Get Sample.  For more information about any one of our Alconox Inc. detergents, consult the technical bulletin for each product. Or click here to access each of our detergent's  Safety Data Sheets.
Do you have a critical cleaning question for the experts at Alconox Inc.?  Search TechNotes to see if it's been answered before or Ask Alconox.
Contact us any time: cleaning@alconox.com