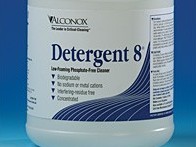 Stainless steel used in nuclear power related applications must be cleaned with cleaners that contain no trace contaminants that can potentially harm the very long term integrity of the stainless steel. No trace agents that could potentially cause hydrogen embrittlement or stress cracking can be tolerated.
Use the very high purity Detergent 8® Low-Foaming Ion-Free Detergent to clean nuclear power related stainless steel and other surfaces in reactor cavities and equipment. Not only is Detergent 8 cleaner free of potentially harmful trace impurities, it is also free of chelating agents that can interfere with ion exchange waste treatment to remove radioactive isotopes from liquid waste resulting from the cleaning operations.  See the Detergent 8 cleaner trace analysis certificate specific for nuclear quality standards.
For further details concerning additional testing on a wide range of other impurities of potential concern, contact Alconox technical support at cleaning@alconox.com.  Also feel free to ask technical questions by vising Ask Alconox. For more information about Detergent 8, please see the Detergent 8 Technical Bulletin.  To receive a free detergent sample, please complete the Get Sample form.