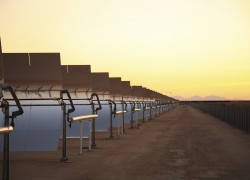 Q. How do I clean glass photovoltaic substrates with and without transparent conductive oxide contact films?
A. Glass sheets used as substrates for solar or photovoltaic panels can be cleaned in large inline glass washers using Detojet detergent.  Use a 1% concentration (10 mL/L or 1.25 oz/gal) of warm 50 deg C Detojet to wash glass to remove dust, packaging, fingerprints and other residues that can interfere with further solar panel manufacturing processes.
Click Here for The Guide to Critical Cleaning or click to access Detojet or any of our detergent's Material Data Safety Sheets.