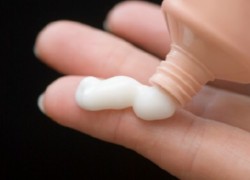 Q. What can be used to manually clean salicylic acid lotions, creams, emulsions from manufacturing equipment?
A. In general salicylic acid is best cleaned by sodium phosphate or alkali citrate salt containing cleaners.  Lotions and creams are often best cleaned by high alkaline cleaners.
Alconox® Powdered Precision Cleaner and Detonox® Ultimate Precision Cleaner are moderately alkaline sodium phosphate-containing detergents that are safer for manual use than some high alkaline cleaners. Alconox is a powder with Detonox being a liquid concentrate.  The Detonox liquid detergent might be better, but both are quite effective and powerful emulsifiers.
If a machine washer/ Clean-In-Place (CIP) system is being used, or high viscosity lotions and creams are to be cleaned, Alcojet® Low Foaming Powdered Detergent or Solujet® Low-Foaming Phosphate-Free Liquid are recommended.  The former is a powder, with the latter a low foaming liquid concentrate.  Note that low foaming, washer/CIP intended detergents tend to be (although not always) higher alkalinity.  This is to compensate for the loss of mechanical action as a cleaning mechanism intrinsic to manual cleaning operations.
For truly difficult residues that may contain botanical extracts, thick waxes, titanium dioxide, etc. we would recommend Keylajet® Low-foaming High Alkaline Liquid for ether manual or automated cleaning methods
To request these, or any Alconox, Inc. detergents for free, please complete the questionnaire at Get Sample.  For more information about any one of our Alconox, Inc. detergents, consult the technical bulletin for each product. Or click here to access each of our detergent's  Safety Data Sheets.
Do you have a critical cleaning question for the experts at Alconox, Inc.?  Search TechNotes to see if it's been answered before or Ask Alconox.
Contact us any time: cleaning@alconox.com