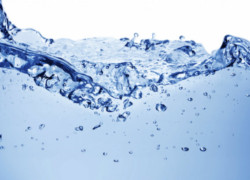 Q. We are looking for a low concentration surfactant to improve DI water wetting to polycarbonate and stainless steel during an aerated flushing operation for removal of sub-micron surface particles. Our parts are cleaned before assembly – we need to improve a DI-water flushing operation that is meant to remove sub-micron sized surface particulate from inside an assembled gas path (tube). How can we improve wettability of DI water?
A. You should speak with a surfactant manufacturer about finding a low surface tension, low critical micelle concentration surfactant.
Likely such a surfactant will be a nonionic surfactant. Add the surfactant at or a little above the critical micelle concentration. In principle you could use Liquinox® detergent at a 0.25% concentration and you would improve DI water wettability.
With Liquinox you get other detergent ingredients in addition to surfactants which you may not want. Liquinox contains surfactants, dispersants and chelating agents. You may only want to get surfactants rather than a detergent.  However, Alconox.com has all the technical information and support documentation you need for any of our detergents, including Liquinox.
To request these, or any Alconox, Inc. detergents for free, please complete the questionnaire at Get Sample.  For more information about any one of our Alconox, Inc. detergents, consult the technical bulletin for each product. Or click here to access each of our detergent's  Safety Data Sheets.
Do you have a critical cleaning question for the experts at Alconox, Inc.?  Search TechNotes to see if it's been answered before or Ask Alconox.
Contact us any time: cleaning@alconox.com