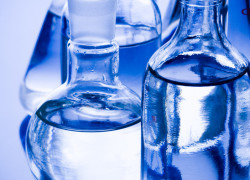 Q. It appears that the Solujet detergent is leaving a ring on some of the labware that cannot be removed. What is this ring? (sodium silicate?) How do we remove it? The labware has not been completely submerged. We have just added the Solujet soak for some labware that may have stubborn organics. We have been giving the labware a 4 hour soak in 1% Solujet, followed by a warm tap water rinse, then wash with Liquinox, followed by 3x DI rinse.
A.  Thanks for the question and the detail you have provided.  It sounds like you have a great procedure to remove stubborn organic residue, save one item. With any of the Alconox, Inc. detergents you should not soak parts, especially glass, partially submerged.
Anywhere there is a glass/detergent/air interface there is a risk of etching the glassware.  If the glass is completely submerged and there is no air interface, then etching is much less likely to happen.  Dissolved oxygen at the meniscus of the interface promotes etching of glassware.  It indeed sounds like the glass has been etched.   If the glassware is etched, then unfortunately you cannot remove that etch.
Going forward, soaking the glassware completely will avoid etching.
This of course applies to other common used laboratory glassware detergents including: Alconox® Powdered Precision Cleaner, Liquinox® Critical Cleaning Liquid Detergent and Detonox® Ultimate Precision Cleaner.
Review how to properly clean glassware procedures….
To request an Alconox Inc. detergent for free, please complete the questionnaire at Get Sample. For more information about any one of our Alconox Inc. detergents, consult the technical bulletin for each product. Or click here to access each of our detergent's Safety Data Sheets.
Do you have a critical cleaning question for the experts at Alconox, Inc.? Search TechNotes to see if it's been answered before or Ask Alconox.
Contact us any time: cleaning@alconox.com