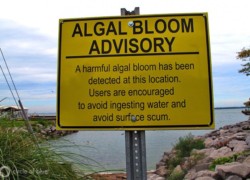 Q: Will Liquinox cause algae bloom?
A: No. Liquinox® Critical Cleaning Liquid Detergent will not cause algae bloom. Here's why.
There are several important factors concerning discharge of spent cleaning solutions into the environment: biodegradability, aquatic toxicity and eutrophication acceleration. Algae blooms relate specifically to eutrophication.  Eutrophication is when too many nutrients end up in a body of water, promoting excessive plant (algae) life and the reduction of animal life from lack of oxygen.  
The primary source of eutrophication is phosphorus in agricultural runoff. Phosphorus is an essential nutrient for algae. When significant amounts of phosphorus are discharged into surface water, vigorous algal blooms may result. The algae die and settle to the bottom filling lakes and ponds with silt and organic matter more rapidly than normal. Although eutrophication is a normal, natural process, the acceleration of this process by phosphates is of course, undesirable.
We at Alconox Inc. are committed to providing the safest, most potent line of aqueous detergents.  Industrial cleaners are not a primary source of algae blooms and there are currently no national regulations restricting the use of phosphates in industrial cleaners.  However, per our commitment, we have developed an array of excellent, completely phosphate-free detergents for use in environmental applications.
Liquinox detergent is an excellent, phosphate-free emulsifier of organic and oily residues. Because it is phosphate-free, there will be no Liquinox-associated algae bloom. For automated and machine washing, we also have highly effective, low-foaming, phosphate-free detergent options. Tergajet® Low-Foaming Phosphate-Free Powder and Solujet® Low-Foaming Phosphate-Free Liquid can be used in powder-based and liquid-based washers respectively.
All of these detergents are drain safe.
If you have additional questions regarding environmental impact, or any technical question for our experts about critical cleaning, please visit Ask Alconox.
To request an Alconox Inc. detergent for free, please complete the questionnaire at Get Sample. For more information about any one of our Alconox Inc. detergents, consult the technical bulletin for each product. Or click here to access each of our detergent's  Safety Data Sheets.
Do you have a critical cleaning question for the experts at Alconox Inc.?  Search TechNotes to see if it's been answered before or Ask Alconox.
Contact us any time: cleaning@alconox.com