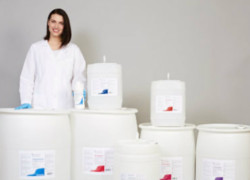 Q: We are interested in purchasing a 55 gallon drum of Liquinox, but first need to know the threaded cap dimension of the drum to choose our tap and pump mechanism.  Do you have a tap available for this cap?
A: There are two openings on the 55 gallon drum :
A 2-inch NPS threaded opening, with a plug with male thread 2 inch NPS thread

A 2-inch Buttress threaded opening with a plug with male thread 2 inch buttress with ¾ inch reducer and faucet carrier
The NPS thread is a fine thread. The buttress thread is a coarse thread.
There are many types of pumps available from our dealers that can fitted to this drum.  Across our dealer network, there are dozens of pumps and adapters that will fit one of these openings on the drum, depending on how the barrel needs to be positioned for convenience. 
The above fitment information is of course for all of our 55 gallon liquid concentrate detergent drums, not just Liquinox® Critical Cleaning Liquid Detergent.
To request Liquinox detergent or any Alconox, Inc. detergents for free, please complete the questionnaire at Get Sample.  For more information about any one of our Alconox, Inc. detergents, consult the technical bulletin for each product. Or click here to access each of our detergent's  Safety Data Sheets.
Do you have a critical cleaning question for the experts at Alconox, Inc.?  Search TechNotes to see if it's been answered before or Ask Alconox.
Contact us any time: cleaning@alconox.com