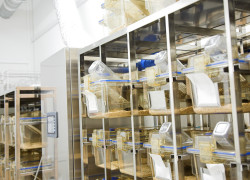 Q. I am a research tech in a new lab where we will be housing mice and rats for our studies. Since we are a small lab, I will be hand washing polycarbonate cages, wire lids, and water bottles by hand. I would like to know what type of cleaner that I can use that is safe for myself to clean with and safe for the animals. I currently have Alconox in powdered form. If I can use that, I also would like to know how much I would dilute it.
A. We recommend using 0.5% Detojet® Low Foaming Liquid Detergent solution with polycarbonate.  Regular detergents like Alconox® Powdered Precision Cleaner or most other detergents and solvents are low surface tension solutions that can cause stress cracking on polycarbonate.  Detojet detergent is not a low surface tension cleaner and has much less risk of causing stress cracking.
If you do not mind stress cracking, you can certainly use Alconox or Tergazyme® Enzyme-Active Powdered Detergent to clean the cages.  Stress cracking typically does not particularly harm the structural properties of the cage, but it can make clear plastics foggy and possibly provide surface cracks for pathogens to hide.
To request these or any Alconox, Inc. detergents for free, please complete the questionnaire at Get Sample. For more information about any one of our Alconox, Inc. detergents, consult the technical bulletin for each product. Or click here to access each of our detergent's  Safety Data Sheets.
Do you have a critical cleaning question for the experts at Alconox, Inc.?  Search TechNotes to see if it's been answered before or Ask Alconox.
Contact us any time: cleaning@alconox.com