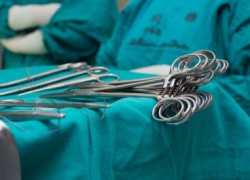 Q. I was planning on purchasing Tergazyme but was wondering if there might be reason to consider an additional second cleaning product for cleaning blood products, etc. off recording electrodes and off of surgical instruments. Would this be redundant or offer any advantage?
A. Tergazyme® Enzyme-Active Powdered Detergent alone is very effective at removing blood, tissue and other body fluids off of electrodes and surgical instruments prior to disinfection or sterilization. It's proteolytic enzymes are designed for removing proteins, while still containing powerful emulsifiers for removing other general organic, oily and particulate residue.
Use a freshly made (within the last 8 hours) 1-3% Tergazyme (1.25 – 3.75 oz/gal or 10-30 g/L) solution in warm water (do not exceed 130F or 55 C). Note that it should be used within 8 hours of formulation to avoid the enzyme auto catalyzing.  It is also highly recommended to not exceed 130F/55C to avoid enzyme denaturing/degradation.
Rinse thoroughly. Clean by immersion in ultrasonics, soaking, or scrubbing with a brush. This will result in a clean, residue-free surface that is ready for effective disinfection or sterilization.
Check out our Tergazyme Video
To request an Alconox Inc. detergent for free, please complete the questionnaire at Get Sample. For more information about any one of our Alconox, Inc. detergents, consult the technical bulletin for each product. Or click here to access each of our detergent's  Safety Data Sheets.
Do you have a critical cleaning question for the experts at Alconox Inc.?  Search TechNotes to see if it's been answered before or Ask Alconox.
Contact us any time: cleaning@alconox.com