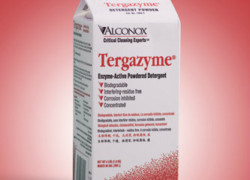 Q. High concentrations of bleach and H2O2 are breaking down PVC pipe and plastic containers causing contamination of a nutrient solution.  I need a cleaner that breaks down biofilm and a cleaner that cleans nutrient salts. I can sterilize with H2O2 using a much lower concentration at the end of process.
A. To remove pathogens and nutrient salts from your hydroponic system, soak and circulate a warm (but not hot – below 130F or below 55 C) 1-3% Tergazyme solution (1.25 –  3.75 oz/gal or 10-30 g/L) to break down biofilms and remove pathogens, nutrient salts and residues.  Rinse thoroughly with water after cleaning.  The surfaces are now clean and ready for disinfection.
To request an Alconox, Inc. detergent for free, please complete the questionnaire at Get Sample. For more information about any one of our Alconox, Inc. detergents, consult the technical bulletin for each product. Or click here to access each of our detergent's  Safety Data Sheets.
Do you have a critical cleaning question for the experts at Alconox, Inc.?  Search TechNotes to see if it's been answered before or Ask Alconox.
Contact us any time: cleaning@alconox.com