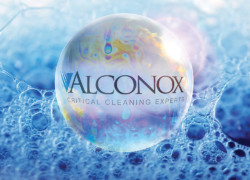 Q. Does Alconox, Inc. make custom detergent formulations to solve special cleaning problems?
A. Yes, Alconox, Inc. will make custom formulations to solve special cleaning problems. Of course we always try to solve cleaning problems with off the shelf cleaners.  However, if there are special cleaning needs that cannot be met using regular Alconox Inc. brand cleaners, where the size of business warrants manufacturing a new formulation, we will make custom detergents.
Typically to make a custom powdered cleaner, a 2,000 lb batch is required. For custom made liquid detergents, as small as 4X55 gal drums or 1,000 gallons packed in 1 gallon bottles can be made. For example, adjusting the pH higher or lower, or creating foaming or low-foaming cleaners of a detergent class in which there is not one, are projects that we are pleased to discuss and undertake where applicable.
To request any Alconox, Inc. detergents for free, please complete the questionnaire at Get Sample.  For more information about any one of our Alconox, Inc. detergents, consult the technical bulletin for each product. Or click here to access each of our detergent's  Safety Data Sheets.
Do you have a critical cleaning question for the experts at Alconox, Inc.?  Search TechNotes to see if it's been answered before or Ask Alconox.
Contact us any time: cleaning@alconox.com