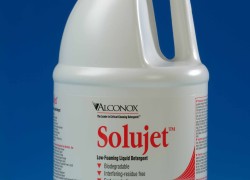 Q: We're looking for a detergent solution like Liqui-Jet™2 Instrument Detergent by Steris. We need it to clean the drain in our microbiology autoclave, so it should be able to target any media or agar that may be clogging the drain. Do you know if you carry anything similar to Liqui-Jet 2?
A: Indeed we do.  Solujet™ Low-Foaming Phosphate-Free Liquid is a powerful, surfactant-containing detergent designed for washer and high pressure sprayer applications.  With surfactants, wetting agents and dispersants, in addition to the alkaline hydrolysis, it can remove challenging biologic residues found on instruments, autoclaves and processing equipment alike.
If you are looking to utilize manual cleaning methods, including soaking, scrubbing and sonication, we may suggest alternative detergents.  We are happy to discuss as needed.
You can also request a free sample of Solujet liquid, or any Alconox Inc. detergents by completing the questionnaire at Get Sample.
For more information about any one of our Alconox Inc. Cleaners, consult the specific technical bulletin. Or click here to access each of our detergent's  Safety Data Sheets.