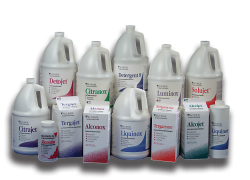 Alconox cleaners that are used to clean pharmaceutical product contact surfaces, in good manufacturing practice (GMP) validated environments, need certificates of analysis obtained and kept on file. These certificates of analysis (COA) can document the analysis of a specific lot of detergent and verify that it conforms to the manufacturers specifications and that the detergent has not changed.
To obtain a certificate of analysis, use the Technical Information and Certificates section of the Alconox website www.alconox.com. You will find this option in the top of the left hand navigation.  Use the pull down the menu to choose COA Cert. of Analysis and a form will come up in which you have to fill out your company information and put the lot number of your Alconox detergent. Fil in the relevant information, hit the submit button, and your COA will pop up for viewing, printing or filing as an Adobe Acrobat brand pdf document.
When selecting the Lot Number, if you do not see your lot number in the list provided, please contact Alconox directly at cleaning@alconox.com with the lot number that you need.