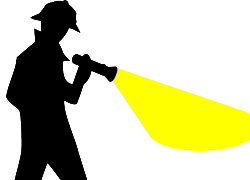 Q: I work for a medical device company where we make machined parts.  I'm interested in finding a supplemental visual inspection tool that will aid in inspecting the surface of a part after being cleaned.  Perhaps additional fluorescent light or a different tool that can support in detecting visual surface contaminants on medical device components?
A:  Visual inspection is a critical component of ensuring your parts are properly cleaned.  We would recommend getting a AAA battery LED flexible goose neck inspection flashlight that you hold at a low angle, close to parallel to the surface being inspected against a dark or poorly lit background.    Any surface residues will reflect back brightly against the darker background. This is a very effective way of detecting particles and films.  You can get inspection lights from industrial suppliers such as McMaster Carr, Grainger, and Amazon.
If you have a question for our critical cleaning experts, we've got answers.  Simply visit, Ask Alconox.