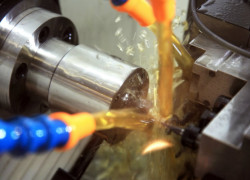 Q. I am trying to remove TRIM® coolant on painted machine surfaces.
A. In general, TRIM® coolants can be removed from painted machine surfaces using a 1% soak solution of warm Liquinox™ (120°F, 1.25 oz/gal or 10 mL/L) followed immediately by a clean water rinse, and drying. Liquinox™ is a near-neutral liquid detergent that can be effectively used on both hard and soft metals, and will not remove cured paint from surfaces, and will not leave behind any residues once rinsed.
TRIM® is a registered trademark of Master Chemical Corporation.
For more information about Liquinox®, click here for the Technical Bulletin or here for the Safety Data Sheet. We also offer free samples to qualified applicants here at Get Sample.