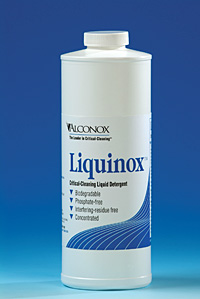 Q. We need to clean anti-reflection coated lenses and protective silver coated mirrors. Any recommendations?
A. Use 1% Liquinox (1.25 oz/gal or 10 mL/L) in warm or hot water to soak or ideally ultrasonically soak the lens and mirror substrates. Follow with a thorough warm or hot rinse.
Get your free sample of Liquinox HERE.
Click for a Liquinox SDS Sheet or visit Alconox.com for more information about Optical Cleaning.