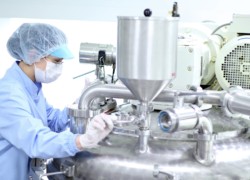 Q. We are cleaning a V Mixer made of NSF Stainless steel and we are using it to mix different protein powders, amino acids, and herbs for dietary supplements. It is small enough to be cleaned by hand but not small enough for any type of sink. I was advised to buy your Citranox product. Is that the best detergent for this job?  
A. We highly recommend Tergazyme® Enzyme-Active Powdered Detergent for this application. It is a powerful emulsifier of organic and oily residues along with proteolytic enzymes for enhanced removal of protein and bioresidues. Watch our Tergazyme® video here for more information.
Citranox® Liquid Acid Cleaner and Detergent is an excellent detergent. Its job in life, however, is to remove inorganic residues like salts and oxidation, and other acid labile residues. It sounds like your primary residue will be organic (in fact proteinaceous) in nature. Hence, we recommend going with a Tergazyme detergent, which is slightly alkaline, and has proteases.
Both detergents can, of course, do a little bit of the other's job. Thus, you might want to consider using both, as many robust cleaning procedures (pharma, med device, etc.) use an alkaline followed by an acidic step. Some of the herbal residues that pass through the mixer might need an acidic cleaner.
You can read a little more the interplay between acidic and alkaline cleaning. 
To request these or any Alconox, Inc. detergents for free, please complete the questionnaire at Get Sample. For more information about any one of our Alconox, Inc. detergents, consult the technical bulletin for each product. Or click here to access each of our detergent's Safety Data Sheets.
Do you have a critical cleaning question for the experts at Alconox, Inc.?  Search TechNotes to see if it's been answered before or Ask Alconox.
Contact us any time: cleaning@alconox.com