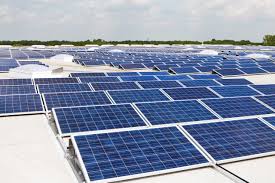 Q. What detergent would you recommend for solar panel maintenance cleaning?
A. For cleaning installed solar panels to maintain clean glass for best efficiency, we have had a lot of reported success with people spraying on 0.5% Liquinox® Critical Cleaning Liquid Detergent solutions (5 mL/L) using hand sprays or garden sprayers.  This would be followed by squeegeeing off the detergent solution to remove dirt, dust, bird droppings etc.
Use of a lower than typical concentration of detergent is recommended so that there is less you have to squeegee off. In field solar panel cleaning, it is hard to get water, so we do not rinse here.  Liquinox detergent is a liquid concentrate, very mild (pH 8.5), non-toxic, phosphate-free, yet powerfully emulsive cleaner that can be discharged to the environment.  (Review of local and municipal regulations with your EHS Manager or equivalent is certainly recommended).
For larger applications, or where a high pressure sprayer is used, we would recommend a powerful low foaming detergent, specifically, Detojet® Low Foaming Liquid Detergent.  We would again recommend a 0.5% concentration.
As detergent concentration directly relates to detergent capacity, or the amount of residue that can be removed, higher concentrations can be considered for particularly dirty applications.  Note that a water rinse would likely be required in these instances.
To request these or any Alconox, Inc. detergents for free, please complete the questionnaire at Get Sample.  For more information about any one of our Alconox, Inc. detergents, consult the technical bulletin for each product. Or click here to access each of our detergent's  Safety Data Sheets.
Do you have a critical cleaning question for the experts at Alconox, Inc.?  Search TechNotes to see if it's been answered before or Ask Alconox.
Contact us any time: cleaning@alconox.com