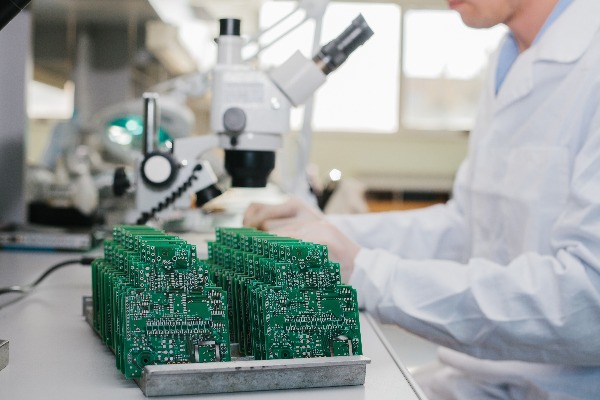 Q. We have found chlorine present on our printed circuit boards after ultrasonic cleaning and distilled water rinse. As the ultrasonic cleaning detergent, we're using either Liquinox or Detergent 8, but are unsure which one was used on affected boards. Could either be contributing to this issue?
A. It's highly unlikely that either detergent, or your cleaning process, is the source of the chlorine residue. The cleaning process you described – using one of our free-rinsing, aqueous detergents in an ultrasonic, at recommended dilution levels (2-3%), thorough rinsing – should successfully remove flux and process residues.
Conceivably chlorine that was inside the board matrix could remain after such a cleaning and still be able to leach out, but we find it quite unlikely. We suggest focusing on how the boards are handled after etching with chlorine containing compounds and acids. Be sure cleaning steps are initiated as soon as possible after exposure to the chlorine containing compounds.
When it comes to choosing detergent for your ultrasonic cleaning of printed circuit boards, we would recommend switching to solely using Detergent 8® Low Foaming Phosphate Free Detergent. Detergent 8 cleaner contains more than 1000 times less chlorine than Liquinox® Critical Cleaning Liquid Detergent. Detergent 8 clean has been tested and used in cleaning extremely chlorine sensitive stainless steel containers used for long term radioactive waste storage.
While Liquinox detergent is not likely contributing to chlorine issues, in theory, it could have a low, single-digit ppm content of chloride. Thus, Detergent 8 cleaner is the ideal detergent for your ultrasonic cleaning of circuit boards. It is an ion free detergent without halides or conductive metal cations.
You can review our Trace Analysis Certificate anytime for more specific trace element content of undiluted Alconox Inc. detergent concentrates.
To request an Alconox Inc. detergent for free, please complete the questionnaire at Get Sample. For more information about any one of our Alconox Inc. detergents, consult the technical bulletin for each product. Or click here to access each of our detergent's Safety Data Sheets.
Do you have a critical cleaning question for the experts at Alconox, Inc.? Search TechNotes to see if it's been answered before or Ask Alconox.
Contact us any time: cleaning@alconox.com