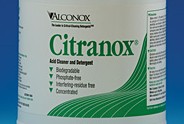 Q. I just received your chapter on cleaning SOPs and I look forward to reading it.  In parallel, I was hoping to get your thoughts or a bit of advice on how to create and implement cleanliness specifications/processes for machined (PTFE) plastic parts. Cutting fluid for the machining center is basically a water soluble vegetable oil-based fluid. The use of this plastic manifold and cover is within an electro-mechanical-fluidic subsystem ("Delivery Module").  This delivery module accumulates a quantity of 59wt% Hydrogen Peroxide that has been extracted from our existing consumable, and then meters smaller quantities of hydrogen peroxide into our system for use.  The hydrogen peroxide is accumulated within aPTFE manifold and held onboard for a period of days.  The manifold has a cover that seals (with o-rings) the internal volumes.  Hydrogen peroxide, as you may know, is very unstable when in the presence of any small amounts of organics or decomposing metals.  We must ensure that these parts are very well cleaned, packaged, and assembled to prevent decomposition.  The machined NXT 75 PTFE vendor's current process related to cleaning is to wipe the parts down with a dish-soap (Ivory) solution, rinse, then run through a series of baths: 1) 10 mins in an ultrasonic bath with 1% Alcanox solution at 50 degrees, 2) Ultrasonic DI Water Rinse Bath, 3) Dead Water DI Water Rinse Bath.
A. The process you have is ok, but can certainly be improved. The Ivory probably does not add much compared to cleaning with Alconox and the Ivory possibly adds organic residues in the form of fragrances, dyes, and possibly emollients depending on which Ivory you are using.  Worse yet, Ivory can change formulas and be "new and improved" at any time.  I do not like using consumer cleaners that have unstable formulations.  At lest the Alconox clean would likely remove whatever the Ivory deposited. 
The kinds of things that might be missed in this type of cleaning would be certain metal oxides.  I would strongly suggest adding a Citranox cleaning process step to this procedures.  I would actually suggest skipping the Ivory step, got straight to the Alconox step and then do the Citranox step.  Both the Ivory and Alconox are mild alkaline cleaners, and both can potentially cause metal oxide precipitates that would be removed in the Citranox step. 
I would recommend:
1) 10 mins in an ultrasonic bath with 1% Alcanox solution at 50 degrees C
2) Dead Water (or ultrasonic, whichever is easier) 50 deg C DI Water Rinse Bath
3) 10 mins in an ultrasonic bath with 2% Citranox solution at 50 degrees 
4) Ultrasonic DI Water Rinse Bath 50 deg C
5) Dead Water DI Water Rinse Bath.
If the vendor wants to continue to use the Ivory step first because that is their standard cleaning, it is really not that harmful if you have the above process afterwards.  If the parts are extremely heavily soiled, than the Ivory step would be adding something of a gross initial pre-cleaning.  If the parts are pretty clean anyway, then I do not think the Ivory brings much to the table and it does have some residue risks.
Note that I specified rinse tank temperatures.  The most important is the 50 deg C rinse after the Alconox clean.  In theory all of the oily, emulsifiable organics come off in the Alconox step and if you go in to a cold rinse right after that, then you can break the emulsion and redeposit these oily organic residues.  Any traces of emulsifiable organics or any unusual organometallic metal salt precipitate would be removed in the Citranox step.  It is good practice to have all the rinses the same temperature as the cleaning. 
If you knew you had a high soil load of a calcium stearate grease on the parts, it would be more important to make sure you rinsed the Citranox with the same tempeature as teh cleaning temperature because some insoluble calcium stearate might suvive the Alconox bath and it would be readily cleaned in the Citranox bath.
If you have a question for our experts about critical cleaning, please visit Ask Alconox.