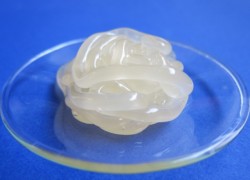 Q. We are a generic pharmaceutical manufacturer of Creams and Ointments. We are having difficulty cleaning equipment (specifically CIP) after making these types of products. We have been successful in cleaning 95% of our products using the alkaline detergent. We have couple of products that leave a white film after the cleaning cycles. These products do not contain metal oxides. We are planning to try the Citranox acid cleaner for a CIP detergent. Would you recommend that or have a different recommendation?
A.  Instead of the Citranox detergent we would recommend use of its low foaming, functional equivalent, Citrajet® Low-Foam Liquid Acid Cleaner/Rinse for your new CIP detergent. While your white film is not from a metal oxide, which is often the substance of highest difficulty to remove in these types of applications, it is very likely an inorganic residue as it is not removed by your current alkaline detergent. Hence, an acidic CIP detergent would indeed be the right call.
As a rule of thumb, alkaline detergents are best for organic, oily residues, while acidic detergents are best for inorganic residue like salts and oxides.
Use a 2% Citrajet solution to begin with to see the effectiveness. Higher concentrations can be explored for highly soiled applications, as increased concentration increases detergent capacity. Additionally, Citrajet can be utilized as a rinse following your alkaline detergent wash cycle. This can of course be employed across the board to homogenize your CIP cycles with an alkaline wash and an acidic rinse.
If residue still remains in either situation, we can consider more aggressive low-foaming detergents which we would be happy to discuss.
To request this or any Alconox, Inc. detergents for free, please complete the questionnaire at Get Sample.  For more information about any one of our Alconox, Inc. detergents, consult the technical bulletin for each product. Or click here to access each of our detergent's  Safety Data Sheets.
Do you have a critical cleaning question for the experts at Alconox, Inc.?  Search TechNotes to see if it's been answered before or Ask Alconox.
Contact us any time: cleaning@alconox.com