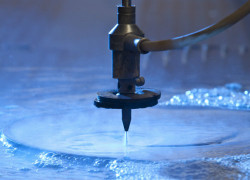 Q. We have a new product to clean small precision parts of aluminum 6061-T6 which have been through heat-treating (surface oxide) and afterwards machined (cutting fluids). What Alconox Inc. product do you recommend?
A. For manual, soak and immersion cleaning of the aluminum, we recommend using a warm or hot 2% Citranox® Liquid Acid Cleaner and Detergent (2.5 oz/gal or 20 mL/L) mild, citric acid based detergent followed by a thorough rinse. It is best practice to allow the machined aluminum to sit in air for at least 15 minutes before cleaning so as to allow the normal passive aluminum oxide layer to form in air. If the passive layer has not formed, there are risks of corrosion and darkening of the aluminum from dissolved oxygen in the rinse water.
To request any Alconox, Inc. detergents for free, please complete the questionnaire at Get Sample. For more information about any one of our Alconox, Inc. detergents, consult the technical bulletin for each product. Or click here to access each of our detergent's Safety Data Sheets.
Do you have a critical cleaning question for the experts at Alconox, Inc.?  Search TechNotes to see if it's been answered before or Ask Alconox.
Contact us any time: cleaning@alconox.com