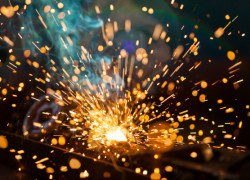 Q. We need recommendations for cleaning stainless steel weldments. A Walter weld cleaning machine is being used. We have tried using Luminox but sometimes it does not produce satisfactory results.
A. Luminox® Low-Foaming Neutral pH Liquid Detergent is a very light duty cleaner used to remove light oils and tiny particulates from delicate substrates. Generally, stainless steel is not considered a delicate substrate. In this case, the recommendation would be 2% Citrajet® Low-Foam Liquid Acid Cleaner/Rinse at 60 deg C for 10 minutes followed by a water rinse. Citrajet detergent is a mild organic acid cleaner (pH 2.5) that is good at removing heat scale and discoloration around weld joints, as well as being a good general purpose cleaner.
The cleaning results with Citrajet detergent will be much better than Luminox detergent. If you need to use Luminox, perhaps due to its neutral pH, and are satisfied with the light duty cleaning it gives, I would recommend using it at a 3% concentration at 60 deg C for 10 minutes. Inc reasing the concentration increases the capacity or amount of residue it can carry away.  I would not expect it to clean as well as Citrajet liquid cleaner. The Citrajet detergent is low foaming like Luminox.  I would expect a low foamer is preferable to use in junction in a large dip tank.
If there are particularly oily substrates to clean, we do make a high foaming cleaner called Citranox® Liquid Acid Cleaner and Detergent (manuf cat no 1801 for the 1 gal size) that would give the same heat scale and discoloration cleaning while doing a better job on oily residues. If significant oily residue is not in play, you will likely be happier with the low foaming version for cleaning your stainless steel weldments. Citrajet detergent (manuf cat no 2001 for a 1 gallon size) should be available from whatever dealer provides Luminox.
If you're interested in a free sample prior to ordering, fill out our qualification form at Here at Get Sample. If you clean others metals in addition to stainless, you might also find our Metal Parts Cleaning Whitepaper valuable. It's available for download, for free at Alconoxwhitepaper.com.
Do you have a critical cleaning question for the experts at Alconox, Inc.?  Search TechNotes to see if it's been answered before or Ask Alconox. You may also find the information you seek in one of our Technical Whitepapers available for download.