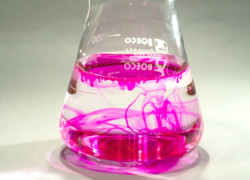 Q. Do you have a known solution for removing erythrosine from stainless steel? Erythrosine is also known as Red 3 when used as a cosmetic. Sometimes the cleaning is manual, other times it is automated.
A. Yes! We have decades of experience cleaning food dyes, salts, and related acid labile compounds with our acidic detergents. We have low and higher foaming acidic detergents that we employ in the cosmetics industry.
Citranox® Liquid Acid Cleaner and Detergent is most often used in manual cleaning, such as scrubbing, soaking, and ultrasonic applications. Citrajet® Low-Foam Liquid Acid Cleaner/Rinse, is best for automated cleaning, such as high pressure sprayer, washer and CIP applications.
Since you will be cleaning both automated and manually, it may make sense to just use the lower foaming Citrajet detergent for both cases. However, Citranox detergent will be more effective in a manual applications as higher foaming surfactants tend to be better emulsifiers. You may want to request a sample of each for testing.
Elevated temperatures will help expedite the cleaning process.  And as always, you will want to rinse with roughly the same temperature as you washed.  Temperature difference could otherwise thermally shock the micelles that form and risk redepositing the erythrosine.
To request these or any Alconox, Inc. detergents for free, please complete the questionnaire at Get Sample. For more information about any one of our Alconox, Inc. detergents, consult the technical bulletin for each product. Or click here to access each of our detergent's  Safety Data Sheets.
Do you have a critical cleaning question for the experts at Alconox, Inc.?  Search TechNotes to see if it's been answered before or Ask Alconox.
Contact us any time: cleaning@alconox.com