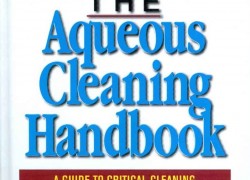 Q. Does Alconox provide information on cleaner residue detection by UV/Vis?
A. Yes. In The Aqueous Cleaning Handbook, written by the Alconox technical support team, cleaner residue detection methods are given for each Alconox detergent. Citranox and Citrajet residues can be detected with citric acid by UV/Vis. More information can be found on the Alconox website at Pharmaceutical Cleaning Validation Method References for Alconox, Inc. Detergents.
For additional technical information on cleaning validation, please Download our Pharmaceutical Cleaning Validation References PDF. And if you have a question for our experts about critical cleaning, please visit Ask Alconox or order Our Aqueous Cleaning Handbook for more information.