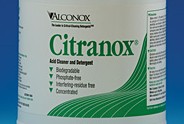 Q. How can I use Citranox to clean thin tubes or needles?
A.  To clean thin tubes, the best thing is to get cleaning solution flowing through the tubes.  If you want to simultaneously clean the inside and outside of the tube, you need to flow solution through the tube under immersion. Using a manifold that attaches a pump to an end of a tube you can pump cleaning solution through the tube. A recirculating pump with the manifold under immersion can clean both the inside and outside of the tube.  Use a warm or hot 2% Citranox solution (20 mL/L) followed by a separate rinse using a similar recirculation of rinse water for most effective rinsing.
Click for the Citranox msds. You can also request a free sample by completing the questionnaire at Get Sample.