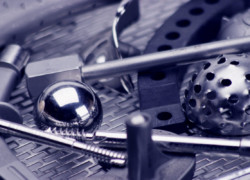 Q. We reprocess single use medical devices and we are having trouble getting organic and biological residue out of crevices. It is requiring cleaning for a much longer time than we can support in our processes. We've started to do a pre-soak as we read that this would help, but we're a little concerned we are not doing that optimally either. Can you make recommendations?
A. When our medical device cleaning clients run into extra tough residues, we like to make sure they're using our Tergazyme® Enzyme Active Powder Detergent at 3% concentration and water temperatures are staying at 120-130°F (no hotter to avoid denaturing the enzymes).  If that's being done, and there are still some lingering residue in tough to reach crevices, then a high(er) pH pre-soak, with a detergent like 1-2% Detonox® Ultimate Precision Cleaner will do the trick.  If you have Liquinox® Critical Cleaning Liquid Detergent that will still help even though neutral pH for any pre-soak is better than none.
Wetting agents in the alkaline detergents are attracted to the residue and substrate surfaces.  Essentially, they will work their way in between the residue and substrate surface. Therefore the residue becomes loosened from the substrate and primed for easier removal by the cleaning process using Tergazyme detergent.  (And additionally the cleaving action of the proteases.)
For more tech talk on how this attraction and loosening works chemically, please read our Technotes article on alkaline hydrolysis and oxidation.
To request an Alconox, Inc. detergent for free, please complete the questionnaire at Get Sample. For more information about any one of our Alconox, Inc. detergents, consult the technical bulletin for each product. Or click here to access each of our detergent's Safety Data Sheets.
Do you have a critical cleaning question for the experts at Alconox, Inc.?  Search TechNotes to see if it's been answered before or Ask Alconox.
Contact us any time: cleaning@alconox.com