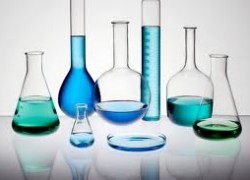 Q. I am searching for waterbath cleansing agent. We only do our maintenance twice a year, so, we need something on a smaller scale. We are preventing expired reagents. What do you recommend?
A. Our smallest size waterbath cleansing agent is Liquinox™ Critical Cleaning Liquid Detergent in a 1 quart bottle. This has a 2-year-from-date-of-manufacture shelf life and can have a 1-year-shelf-life extension on request. You can find this in our catalog as number 1232-1 (1232 would be a 12 x 1 qt pack).
One quart will make 25 gallons of 1% cleaning solution (our default recommended cleaning concentration for typical applications such as this). Liquinox detergent is commonly used to clean reusable glassware and equipment in laboratories, so possibly you can find other uses for it in your lab – maybe you already have it in your lab.
Click for Liquinox SDS and technical bulletins. The detergents are available from leading scientific and industrial suppliers such as VWR, Fisher, Spectrum Chemical, USA Bluebook, Thomas Scientific and Amazon.com. You can also locate a dealer HERE on our website.