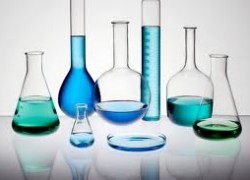 Q. I hope that you can help recommend a product that might help a customer of ours that's having great difficulty getting cleaning lab glassware. It has remnants of sludge from a water treatment facility laboratory. They are manual cleaning, and willing to soak the glassware, but they are not sure Tergazyme will be strong enough.  Have you run into this before?  Do you know if Tergazyme will work?  Can we get some samples of whatever product(s) you think might work, and I'll shoot them over to the customer?
A. We are sending you an 8oz sample of Solujet to assist with your cleaning challenge. For heavy sludge in a waste treatment plant we recommend using a 1% Solujet presoak.  Please note that Solujet is a corrosive liquid and skin and eye protection is required for handling. As it is classified a HAZMAT for shipping purposes please expect it to arrive in about 2 weeks. In the meantime, I am linking to Solujet's MSDS and Technical Bulletin.
Regarding Tergazyme, it is good for proteins, but unless this is a protein sludge, Tergazyme is not likely to be as effective as Solujet for your purpose.