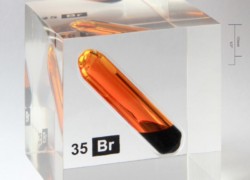 Q: What can we do to replace n-propyl bromide? We are cleaning grease and oil from stainless steel. We had heard Citranox might do the job well.
A: The compound n-propyl bromide is often used in vapor degreasing and is considered to be associated with some serious health risks and is hazardous. We would certainly recommend you switch to a drain-safe, biodegradable, aqueous detergents like those we provide at Alconox Inc.!
While Citranox Liquid Acid Cleaner and Detergent will be able to do the job, we would recommend Alconox® Powdered Precision Cleaner and Liquinox® Critical Cleaning Liquid Detergent, depending on your preference for a powered or liquid concentrate, respectively.  We would recommend warm 1-2% concentrations, followed by a thorough rinse. These alkaline based detergents will have the ability to more thoroughly remove and emulsify organic and oily residues you are currently tackling with the hazardous alternative.
To request an Alconox Inc. detergent for free, please complete the questionnaire at Get Sample. For more information about any one of our Alconox Inc. detergents, consult the technical bulletin for each product. Or click here to access each of our detergent's Safety Data Sheets.
Do you have a critical cleaning question for the experts at Alconox, Inc.? Search TechNotes to see if it's been answered before or Ask Alconox.

Contact us any time: cleaning@alconox.com