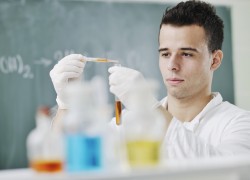 Q. Does Alconox, Inc. offer validation consultants to provide validation tech support?
A. Yes, Alconox can provide valuable consulting and information to medical device manufacturers. Our critical cleaning experts can discuss validation concerns such as techniques for determining acceptable residual levels and analytical methods for residue quantitation. Alconox, Inc. supplies detergents to medical device manufacturing companies that require exacting levels of quality control and technical service. Alconox, Inc. provides support for regulatory-compliant cleaning validations which includes lot number traceability of all cleaners and ingredients, cleaner toxicity and reactivity/degradation information, shelf-life testing, residue sampling, detection methods and written cleaning procedures.
To test an Alconox, Inc. detergent for free, please complete the questionnaire at Get Sample. For additional technical information on cleaning validation, please Download our Medical Device Cleaning Validation References PDF or Medical Device Whitepapers. And if you have a question for our experts about critical cleaning, please visit Ask Alconox.