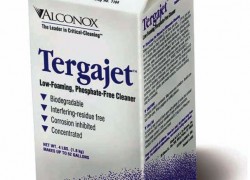 Q. Can Ion Chromatography detection method be used for Tergajet?
A. Sodium Ion specific electrodes can be used to detect Tergajet® Low-Foaming Phosphate-Free Detergent, however very good deionized water must be used and there can be no other significant source of sodium in your system. There is about 28% sodium by weight in Tergajet detergent. Given that sodium is commonly found in fingerprints and many other compounds, this may not be the best method to use.  We would be happy to discuss further.
If the substrates are cleaned in a way that would not tend to get outside sources of sodium on them, then this method will certainly work. There is plenty of sodium in Tergajet. Note that there is no potassium.  There is almost 30% sodium citrate dihydrate present and therefore is a good marker for Tergajet.
To request this or any Alconox, Inc. detergents for free, please complete the questionnaire at Get Sample.  For more information about any one of our Alconox, Inc. detergents, consult the technical bulletin for each product. Or click here to access each of our detergent's  Safety Data Sheets.
Do you have a critical cleaning question for the experts at Alconox, Inc.?  Search TechNotes to see if it's been answered before or Ask Alconox.
Contact us any time: cleaning@alconox.com