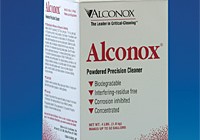 Q. How do I clean metal substrates in coupon preparation when testing adhesive bonds?
A. When cleaning metal substrates, like coupons, prior to use in bond testing, it is important to have a thoroughly clean substrate with which to begin.  We recommend using a warm or hot 1% solution of Alconox® Powdered Precision Cleaner (1.25 oz/gal or 10 g/L) followed by a thorough water rinse to clean off residues that can cause bonding problems on metal coupons.
To request these or any Alconox, Inc. detergents for free, please complete the questionnaire at Get Sample. For more information about any one of our Alconox, Inc. detergents, consult the technical bulletin for each product. Or click here to access each of our detergent's  Safety Data Sheets.
Do you have a critical cleaning question for the experts at Alconox, Inc.?  Search TechNotes to see if it's been answered before or Ask Alconox.
Contact us any time: cleaning@alconox.com