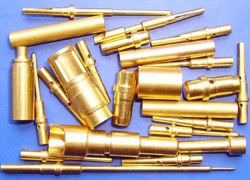 Q: Our gold plating process leaves some residue and someone recommended chlorine bleach for cleaning, but we're afraid that will negatively effect the finish. Can Alconox assist with safely removing residues from gold plating?  Should we use a soak or ultrasonic cleaning process?
A:  Yes we can and you're right to reconsider bleach. Let's start by addressing the ideal cleaning process. A manual cleaning process is almost always preferred as it allows for more powerful surfactants to be employed (foaming as opposed to low foaming detergents) and it also allows for mechanical energy.  Light scrubbing, when practical, is usually best.
In this application we are recommending ultrasonic and soaking, if scrubbing not an option. For the detergent, we want to take advantage of the oxidation capability of AlcojetⓇ Low Foaming Powdered Detergent. It will be a far safer alternative to removing your oxidation-requiring residue than bleach.
In this case, the alkaline detergent is indeed low foaming, but recommended nonetheless in a manual (foaming permissible) operation for your oxidation-labile residue. The ultrasonic method is best in this case, as opposed to soaking, because of the mechanical energy it can impart. 
All of our detergents are completely free-rinsing, as they must be for the industries we work with including food, biopharma, medical device, healthcare, etc.
For general cleaning of gold, with common everyday residues, we would recommend our more traditional for ultrasonic use, higher foaming detergents.
Learn more about our detergent's free rinsing properties and how manual and ultrasonic cleaning influence low or high foam detergent choice.
To request an Alconox Inc. detergent for free, please complete the questionnaire at Get Sample. For more information about any one of our Alconox, Inc. detergents, consult the technical bulletin for each product. Or click here to access each of our detergent's  Safety Data Sheets.
Do you have a critical cleaning question for the experts at Alconox Inc.?  Search TechNotes to see if it's been answered before or Ask Alconox.
Contact us any time: cleaning@alconox.com