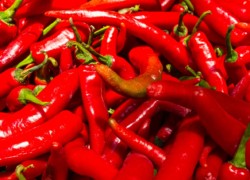 Q: We have capsaicin residue we are encountering.  It is proving challenging to remove, and irritating to our technicians.  Please help!
A:  In addition to adding a little spice to food and drink, capsaicin is used in pharmaceutical preparation for its analgesic properties.
We can it clean via two cleaning mechanisms: emulsification or oxidation.  If you are indeed looking to clean manually, the powerful emulsification capability of 1-2% Detonox® Ultimate Precision Cleaner detergent, along with warm to hot temperatures, will help clean away residual capsaicin.
If, because of irritation concerns, you are looking to clean the capsaicin residue via CIP, washer or other automated means requiring low foaming detergents, the oxidization components of Detojet® Low Foaming Liquid Detergent and Alcojet® Low Foaming Powdered Detergent will help break up the compound making it easier to wash away. Detojet detergent, being a liquid concentrate, would be for CIP or washers with liquid dispensing systems. While Alcojet detergent would be for small scale washers designed for powdered detergents.  We would again recommend 1-2% concentrations of these detergents and warm to hot temperatures.
Recall, in most cases, heat expedites cleaning.
To request an Alconox Inc. detergent for free, please complete the questionnaire at Get Sample. For more information about any one of our Alconox Inc. detergents, consult the technical bulletin for each product. Or click here to access each of our detergent's Safety Data Sheets.
Do you have a critical cleaning question for the experts at Alconox Inc.?  Search TechNotes to see if it's been answered before or Ask Alconox.
Contact us any time: cleaning@alconox.com