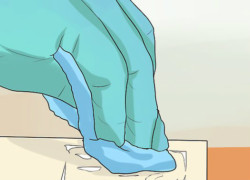 Q. We are looking for recommendations on how to remove adhesive residue left on medical devices after pulling off labels or tape.
A. We are aware of many customers using Detergent 8® Low-Foaming Ion-Free Detergent to successfully remove different kinds of tough adhesive residues. We suggest using a high concentration 5% Detergent 8 solution (6.25 oz/gal or 50 mL/L) followed by a thorough water rinse.  The ingredients are easily rinsed and volatile, so there will not be residues to worry about.  Recall the higher a concentration is, the higher the detergent's capacity (ability to carry away residue) is.
The wash can be via a warm or hot soak or ultrasonic bath (temperature obviously limited by the substrate).  A good rule of thumb is that for every 10C cleaning time is halved for most substances.  One of the exceptions would be thermoset adhesive.  If this adhesive is thermoset, then we would want to go with ambient temperature cleaning.
Note that Detergent 8 cleaner, while not corrosive by federal standards, is listed as a hazmat for shipping. At a moderately alkaline pH 11, operators manually using the detergent are highly recommended to have proper skin and eye protection.  It's low foaming nature will allow for its use in machine and other high pressure washing applications.
To request Detergent 8 cleaner or another Alconox, Inc. detergent for free, please complete the questionnaire at Get Sample.  For more information about any one of our Alconox, Inc. detergents, consult the technical bulletin for each product. Or click here to access each of our detergent's  Safety Data Sheets.
Do you have a critical cleaning question for the experts at Alconox, Inc.?  Search TechNotes to see if it's been answered before or Ask Alconox.
Contact us any time: cleaning@alconox.com