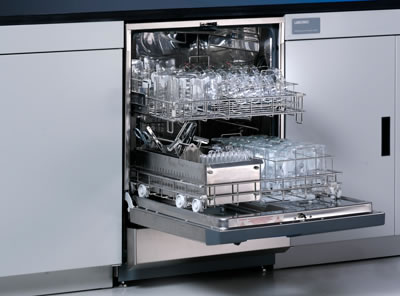 Q. When cleaning labware, Liquinox foams too much to use as a labware washer detergent. We test for phosphate, so we need a phosphate-free detergent. We need a cleaner that will clean off any testing residual on glass and plastic without leaving any interference. Can you recommend a detergent?
A. Correct. You may decide to pre-soak in Liquinox® Critical Cleaning Liquid Detergent but it is not meant for automated washer use, due to foaming.
Note that your labware washer will be set up to use powdered detergent in a little cup in the door or basket; or it will have a liquid dosing system for a liquid detergent.
For powdered detergent, use Tergajet® Low-Foaming Phosphate-Free Detergent. For a liquid detergent, use Solujet® Low-Foaming Phosphate-Free Liquid.
Like all laboratory grade liquid automated washer detergents, Solujet ships as a hazmat due to the potassium hydroxide ingredients. Both Tergajet and Solujet are laboratory grade detergents intended for use in automated laboratory washers that can deliver glassware with no interfering residues.
You can also consult Lab Washer Guide for further information on labware washing best practices.
To request these or any Alconox, Inc. detergents for free, please complete the questionnaire at Get Sample. For more information about any one of our Alconox, Inc. detergents, consult the technical bulletin for each product. Or click here to access each of our detergent's Safety Data Sheets.
Do you have a critical cleaning question for the experts at Alconox, Inc.? Search TechNotes to see if it's been answered before or Ask Alconox.
Contact us any time: cleaning@alconox.com