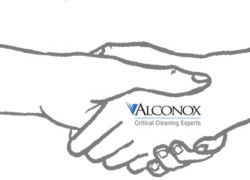 Staff Chemist / Technical Support Specialist –
Alconox Inc., critical cleaning experts for over 70 years is looking to hire a Staff Chemist / Technical Support Specialist.    The ideal candidate will have a strong chemistry background and laboratory skill set.  Formulation science strongly preferred.  Detergent formulation a major plus.  This role will evolve into involvement with formulation of existing and future product formulations, as well as performing laboratory activities for internal and external needs.  The hire should be comfortable interacting with external customers to assist Marketing and Commercial Development objectives.  This will include involvement with tradeshows, conferences, and email/phone/site technical support.
Roles and Requirements:
BS in chemistry or a closely related field, advanced degrees a plus
2-7 years' experience with Chemical, Biochemical or related organizations
Up to 30% travel, largely domestic (tradeshows, customer visits, etc.)
Ability to perform and interpret chemistry laboratory testing and assays
Willingness to engage and assist customers, and support distribution channels to further grow the business with technical support
A passion to join and represent an internationally recognized resource for critical cleaning needs and expertise!
Competitive compensation, benefits, 401K plus match
Alconox Inc. is located steps away from the Metro North in White Plains, NY, allowing for a dream commute from many locations throughout NYC and Westchester areas.
Please contact us with a resume and inquiries: Staff Chemist / Technical Support Specialist