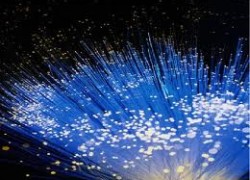 Q. Can you recommend a cleaner appropriate for fiber optics?
A: There is near zero tolerance of contamination in fiber optics.  Fiber optic cable needs scrupulously clean surfaces at the glass joint to assure efficient light transmission. Any cleaner which leaves a residue will make matters worse as this will attract contaminants.
For cleaning fiber optic cable we would recommend a heated ultrasonic bath using a 1% Alconox® Powdered Precision Cleaner or Liquinox® Critical Cleaning Liquid Detergent solution. Follow this with a deionized water rinse for a clean, suitable surface for bonding optical fibers.
To clean by hand, use the detergent solution with appropriate lint free swabs or tools to clean surfaces followed by rinse wiping and possibly drying with isopropyl alcohol (drying solvent).  The Alconox and Liquinox detergents have emulsifiers that are effective on a broad range of oils, dispersants that are effective on particulates, and contain rinse-aids and anti-redeposition agents that allow it to rinse away freely without redepositing any residues.
Downloadable technical bulletins and SDS are available from the Alconox, Inc. website for these, as well as all of our detergents.
Do you have a specific question about fiber optic cleaning? A technical expert at Alconox, Inc. can help. We answer any and all specific application questions at Ask Alconox. If you're interested in trying a sample for your application, click here to Request Sample.
Do you have a critical cleaning question for the experts at Alconox, Inc.?  Search TechNotes to see if it's been answered before or Ask Alconox. You may also find the information you seek in one of our Technical Whitepapers available for download.