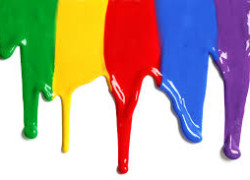 Q. Looking for a cleaner to remove pigments from pump and tubing colorant dispenser. It will be used in field paint stores and home centers.
A. In order to remove the challenging residue of paint pigments and dyes, you need a powerful emulsifier. Two great options for manual cleaning (soaking, scrubbing or sonication of parts) are Alconox® Powdered Precision Cleaner and Detonox® Ultimate Precision Cleaner. The former is a powder, and the latter Detonox detergent is one of our newest additions. It is an extremely potent liquid concentrate.
Our rule of thumb is that every 10°C cuts the cleaning time in half, so elevating temperature as well as adding mechanical energy will help expedite the cleaning process.  Follow the cleaning step with a thorough rinse and you will have clean, residue free surfaces in your colorant dispenser.  
To request these, or any Alconox, Inc. detergents for free, please complete the questionnaire at Get Sample.  For more information about any one of our Alconox, Inc. detergents, consult the technical bulletin for each product. Or click here to access each of our detergent's  Safety Data Sheets.
Do you have a critical cleaning question for the experts at Alconox, Inc.?  Search TechNotes to see if it's been answered before or Ask Alconox.
Contact us any time: cleaning@alconox.com