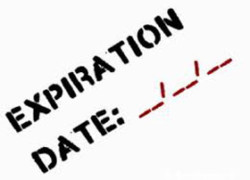 Problem:  To assure that you are using effective detergent, you want to know that the detergent has not expired.  Alconox, Inc. detergents have a shelf life of two years from the date of manufacture.  You need to know the date of manufacture to determine the expiration date for Alconox, Inc. products.
Solution:    Most detergent packages are marked with a 24 months from the end of the month of manufacture shelf life.  The more robust and longer life ½ oz Alconox® Powdered Precision Cleaner and Tergazyme® Enzyme-Active Powdered Detergent powder sample packets, and Alcotabs® Tablet Pipet Detergent packages are marked with 36 months from the end of the month of manufacture.
Some liquid bottle packages of Alconox, Inc. detergents have expiration dates ink jet printed on the bottle next to the lot number just above the label.  For other packages, you can find the date of manufacture and expiration date on the certificate of analysis (COA) of the lot of detergent that you have.  For help finding the lot number of the detergent you have or help finding the COA, use alconox.com to click on 'Support' and select COA.
The below will help locate the lot number and expiration date locations:
1 Qt (0.95L) and 1 Gal (3.8L) Bottle – above the label ink jet printed on
4 lb (1.8kg) box  – upper right of To Open panel
Case boxes – upper right of Ship To panel
5 gal (19L), 15 gal (57L) and 55 gal (208L) drums – vertical large lettering inkjet
25 (11 kg) and 50 lb (22 kg) boxes – upper right of ship to panel
100 lb (45 kg) lb and 300 lb (136 kg) drums – ink jetted on side of container not far from the label
You can also establish the expiration date using the lot number if you know it.  To estimate the expiration date from the lot number, use the 3rd and 4th character of the lot number.  The 3rd character is a letter that stands for the month of manufacture using A for January thru M for December skipping the letter I to avoid confusion with the number 1.  The 4th character of the lot number is a number which stands for the year of manufacture currently starting from the year 2010, such that 0=2010 and 9 = 2019.  Starting in the year 2020, 0 will mean 2020 and 9 will then mean 2029 and so on.  Knowing the month and year of manufacture, you now add two years and get the month of expiration.
To request these, or any Alconox, Inc. detergents for free, please complete the questionnaire at Get Sample.  For more information about any one of our Alconox, Inc. detergents, consult the technical bulletin for each product. Or click here to access each of our detergent's  Safety Data Sheets.
Do you have a critical cleaning question for the experts at Alconox, Inc.?  Search TechNotes to see if it's been answered before or Ask Alconox.
Contact us any time: cleaning@alconox.com