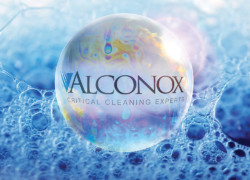 Visit Alconox, Inc. at the BIOMEDevice Boston, May 3-4, 2017.  Stop by Booth #914 to receive our unique gifts, expert technical support for your critical cleaning applications, and detergent samples.  We want to extend comped expo admission to BIOMEDevice Boston. Simply enter promo code FREE when you register online for your pass and you're in.
Our critical cleaning detergents remove an array of soils while leaving no interfering residue on biotechnology and medical device manufacturing / laboratory equipment.  To learn more about the specific cleaning applications we can tackle in Biomedical device industry, click over to TechNotes.
Additional Alconox, Inc. Resources 
We're used to tackling the tough stuff. Alconox, Inc. has been cleaning up acts for over 70 years. Here's how to get some Alconox, Inc. technical assistance, validation support and samples.