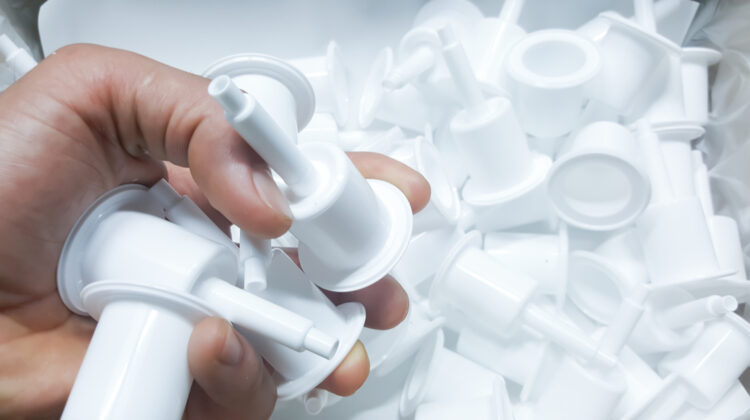 Q. We are looking for a product to effectively remove silicone oil from a HDPE/ABS medical device. We currently use a combination of washing treatments to efficiently remove the silicone oil.
A. High-density polyethylene (HDPE) Acrylonitrile Butadiene Styrene (ABS) medical devices are common place throughout the medical device manufacturing industry. The oily residues, slip agents, mold release, and lubricants can be a challenge to remove.
Remove silicone oil (siloxane) with ultrasonic cleaning with high temperature 2-3% Alconox® Powdered Precision Cleaner or Detonox® Ultimate Precision Cleaner detergent solution at >170F (~80C) followed by a thorough rinse with water. Ideally, make sure the first rinse is also with similarly hot water. These avoids thermal shocking and breaking of the emulsions that form which could then redeposit the oil back onto the device.
Typically 10-20 minutes in ultrasonics is adequate to remove the residue.
Confirm the thermal stability of your HDPE/ABS. In general these plastics are stable to 170F/80C + temperatures.
The above general procedure and detergents can be use to critically clean the vast majority of common medical device plastics including HDPE, ABS, PEEK, polypropylene and many, many more. As always, verification in your own setup, application, conditions and instruments is essential. Contact us any time to discuss your particular medical device material.
To request this or any Alconox Inc. detergents for free, please complete the questionnaire at Get Sample. For more information about any one of our Alconox Inc. detergents, consult the technical bulletin for each product. Or click here to access each of our detergent's Safety Data Sheets.
Do you have a critical cleaning question for the experts at Alconox Inc.? Search TechNotes to see if it's been answered before or Ask Alconox.
Contact us any time: cleaning@alconox.com