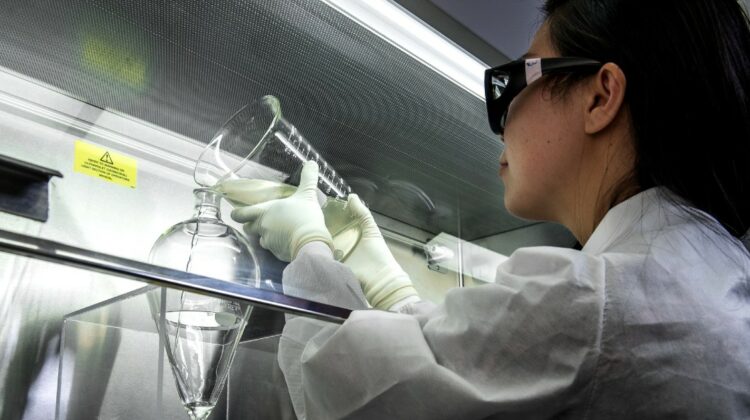 Q: We've switched from base and acid baths to a Citranox solution for cleaning glassware used to distill H2S from marine sediments using Cr2 , concentrated HCl, and AgNO3. It seems to do a good job on most of the apparatus but we still see grayish deposits on the glass frits. Any suggestions?
A: The detail is appreciated.  Whenever there is a "mystery" residue, whether it be on glass frits or any hard surface, it is useful to analyze what may have worked and what may have changed.  As you switched from an alkaline followed by an acidic cleaning it would appear that this gray residue is only soluble in an alkaline cleaning step.  Whatever Citranox® Liquid Acid Cleaner and Detergent leaves behind (which is not expected to be much in terms of inorganic and acid soluble residue) the concentrated HCl would take care of.  Hence reintroduction of an alkaline step will help quite a bit.
Alconox Inc. rule of thumb: That which is not soluble in acid is often soluble in base.  And vice versa.
We would suggest precleaning with a warm to hot 2% Alconox® Powdered Precision Cleaner or Detonox® Ultimate Precision Cleaner.  The latter being the more alkaline, more robust cleaner.  Then the Citranox detergent step can follow.  This might very well eliminate the need for the other cleaning steps.
To request these or any Alconox Inc. detergent for free, please complete the questionnaire at Get Sample. For more information about any one of our Alconox Inc. detergents, consult the technical bulletin for each product. Or click here to access each of our detergent's Safety Data Sheets.
Do you have a critical cleaning question for the experts at Alconox Inc.?  Search TechNotes to see if it's been answered before or Ask Alconox.
Contact us any time: cleaning@alconox.com