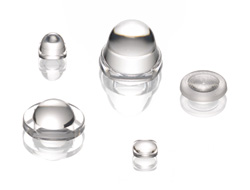 Q. Using Detojet detergent at high concentration is damaging the silicon diffraction gratings without cleaning it sufficiently. I have also tried the Luminox solution but it does not clean the surface adequately. Are there any products offered by Alconox, Inc.that are low foaming, so they can be used in the parts washer, that will effectively clean silicon without damaging it?
A. We suggest you use low foaming Solujet® Low-Foaming Phosphate-Free Liquid that does not contain any active bleach compounds like Detojet detergent to clean the silicon defraction gratings. A warm 1% Solujet® solution (1.25 oz/gal or 10 mL/L) followed by a thorough rinse should be used.
To request this or any Alconox, Inc. detergents for free, please complete the questionnaire at Get Sample. For more information about any one of our Alconox, Inc. detergents, consult the technical bulletin for each product. Or click here to access each of our detergent's  Safety Data Sheets.
Do you have a critical cleaning question for the experts at Alconox, Inc.?  Search TechNotes to see if it's been answered before or Ask Alconox.
Contact us any time: cleaning@alconox.com